Ernst Zundel
[back] History Revisionists [back] Holocaust revisionism
[On February 15, 2007 Revisionist activist, publisher and author Ernst Zundel was convicted of 14 counts of incitement for Holocaust "denial" and sentenced to five years imprisonment in Germany. The charges stem from his running a small publishing house, Samisdat Publishers and his alleged running of the popular and embattled revisionist Website, The Zundelsite. More information.]
Web: http://www.zundelsite.org/ http://www.revisionists.com/revisionists/zundel.html
The Zündel Trials (1985 and 1988) by ROBERT FAURISSON
[2007] Zundel Update - Innocent And Inside Mannheim Prison By Dennis Stevenson
[1989] My Role in the [Ernst] Zündel Trial Much to the chagrin of Zündel's enemies, these lengthy court proceedings have immeasurably strengthened the conviction of the defendent and his supporters, as well as many others, that the Holocaust extermination story is a great fraud. All this is a great tribute to Zündel's organizational ability and extraordinary personality.
http://www.ihr.org/books/kulaszka/falsenews.toc.html
Video
Zundel-Cole 1 A German and a Jew investigate Auschwitz together, 2 the swimming pool for the inmates, etc. in Auschwitz. 3
Ernst Zundel and John Ball re: Schindler's List part 1, 2, 3
Ernst Zündel Interviewing Michael Hoffman on YouTube This lively interview from circa 1990 was conducted in Toronto by famed revisionist publisher and prisoner of conscience Ernst Zündel, who talks with journalist Michael Hoffman, the reporter who covered the 1985 thought crime trial of Zündel and subsequently wrote a book about it.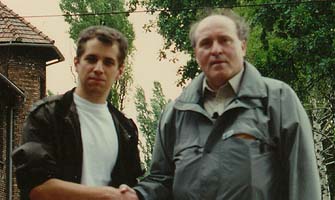 [Mark Weber] The 'False News' Trial of Ernst Zündel -- 1988
[Fred A. Leuchter] The 'False News' Trial of Ernst Zündel -- 1988

[Bernard Kneuper] The 'False News' Trial of Ernst Zündel -- 1988
[Maria Van Herwaarden] The 'False News' Trial of Ernst Zündel -- 1988
[Joseph G. Burg] The 'False News' Trial of Ernst Zündel -- 1988
[Emil Lachout] The 'False News' Trial of Ernst Zündel -- 1988
[Bill M. Armontrout] The 'False News' Trial of Ernst Zündel -- 1988
[Udo Walendy] The 'False News' Trial of Ernst Zündel -- 1988
[Kenneth R. Wilson] The 'False News' Trial of Ernst Zündel -- 1988
[Maria Van Herwaarden] The 'False News' Trial of Ernst Zündel -- 1988
[Maria Van Herwaarden] The 'False News' Trial of Ernst Zündel -- 1988
Ernst Zündel had promised that his trial would be "the trial of the Nuremberg Trial" or "the Stalingrad of the "exterminationists." The unfolding of those two long trials proved him right, even though the jury, "instructed" by the judge to consider the Holocaust as an established fact "which no reasonable person can doubt," finally found him guilty. Zündel has already won. It remains for him to make it known to Canada and to the entire world. The media black-out of the 1988 trial was almost complete. Jewish organizations campaigned vigorously for such a blackout, and even went so far as to say that they did not want an impartial account of the trial. They did not want any account of it at all. The paradox is that the only publication which reported relatively honestly about the trial was The Canadian Jewish News. Ernst Zündel and the Leuchter report have left a profound mark on history; both will be remembered for many years to come. The Zündel Trials (1985 and 1988) by ROBERT FAURISSON

Ernst Zündel proudly pointing to the former location of the stone tablets stating that 4 million people died in the camp. The tablets had just recently been chiseled away and dumped in the Memory Hole. A few years later, a new text appeared, showing 3 million fewer victims. The official myth of the genocide of the Jews speaks of 1.5 million Auschwitz victims. http://www.cwporter.com/bild5.htm