World Health Organisation (WHO)



[back] Allopathic Inc
Web: http://www.who.int/gpv/ http://www.africa2000.com/RNDX/rndx.htm
See: Disease statistics Africa Anthony Brink AZT Viramune (nevirapine)
See: UNICEF GAVI UN GAVI
[2009 Nov] World Health Organization 'Manufactured' The Global Swine Flu Scare – Suspected Of Corruption
WHO CAUGHT LYING IN PUBLIC OVER VACCINES
Genocide in a vaccine: Pantheism's moral Chemistry by Suzanne Rini
[Media Feb 2004] WHO 'suppressed' scientific study into depleted uranium cancer fears in Iraq
Nobody wants to know WHO killed half a million Iraqi children! by Elias Davidsson

Emerging Viruses: AIDS & Ebola. Nature, Accident or Intentional? Interview of Leonard G. Horowitz, D.M.D., M.A.., M.P.H. by Gary Null 1995.
[WHO document 2001 pdf] Delivering 20 vaccines by 14 weeks containing 187.5 micrograms of mercury (equivalent to say 3 grams scaled to adult weight) to immunologically vulnerable infants, surviving in conditions of poor sanitation, nutrition and housing.
[Jan 2007] The WHO's Blueprint for Genocide
The recommended AZT dose for African infants and small children is the same per kg of body weight as the original high-dose AZT that is widely acknowledged to have killed an entire generation of grown men, and which has not been administered for almost a decade.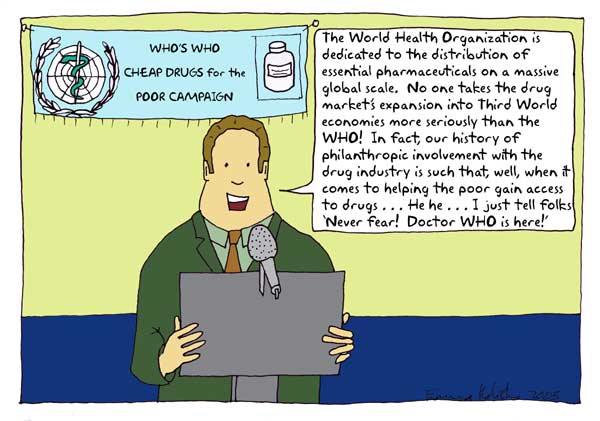 WHO & Vaccine http://www.techmgmt.com/restore/who.htm
Population control http://www.new-atlantean.com/global/birthcon.html
Ebola & AIDS in Africa http://www.tetrahedron.org/research.htm
WHO reproductive research http://www.trufax.org/vaccine/v7.html
Book: http://home.earthlink.net/~simultrek/tmwca.htm
EPI---Expanded Program on Immunization (commenced 1983)
UCI---Universal Childhood Immunization
HIV HYSTERIA LEADS UN TO LAUNCH ANTI-BREASTFEEDING CAMPAIGN