Autism & Vaccines
Autism
"I think that the biological case against Thimerosal is so dramatically overwhelming anymore that only a very foolish or a very dishonest person with the credentials to understand this research would say that Thimerosal wasn't most likely the cause of autism."--- Interview of Dr. Boyd E. Haley by Teri Small:
[2009 Sept] David Kirby: New Study: Hepatitis B Vaccine Triples the Risk of Autism in Infant Boys
[2008 Dec] David Kirby on Autism and the Military: One Very Brave Captain
[2007] Jonny & Sierra: Vaccine-Induced Autism
Former UK Science Chief -- Vaccines Cause Autism: "What More Evidence is Needed?" "I have always thought since I first heard about the Somali children that this really proves the causal role of vaccines. The Amish children who have no vaccines have no autistic-like disorders and the Somali children who are newly exposed to aggressive vaccine programmes have exceptionally high levels! What more evidence is needed?"
[2008] Key realities about autism, vaccines, vaccine-injury compensation, Thimerosal, and autism-related research----Gary S. Goldman, Ph.D & P.G. King PhD.
SICK MONKEYS: RESEARCH LINKS VACCINE LOAD, AUTISM SIGNS
[2008] Unprovoked Seizures in First Year of Life May Signal Autism Spectrum Disorder
[NVIC 3/2006] Chelation for autism
CDC officials, who maintain autism is a genetic disorder and irreversible, cannot tolerate the existence of children whose autistic behaviors have disappeared after chelation therapy removes vaccine-related mercury and other toxins from their bodies.
[Media December 13, 2004] Gene flaw may link autism, vaccine additive
[Book] Mercury : The Winged Messenger by Courtney L. Zietzke
[Book] "EVIDENCE OF HARM" by New York Times writer David Kirby
[jan 2004] A Review of the Relationship between Thimerosal and Autism. David A. Geier and Mark R. Geier, MD

Experts: Redefine Autism as Systemic Illness
Autism Research Institute's Mercury Detoxification Consensus Conference February 9-11, 2001, Dallas, Texas
[Media July 22, 2001] New autism doubt on mercury in vaccines
Three Large Autism Organizations---Why Vaccines/Immunology and Autism are not looked into
[Media May 27 2001] Autism 'linked to mercury vaccine' (Melissa Wickens)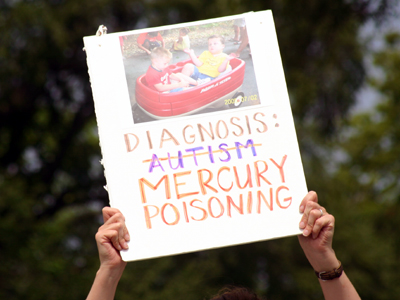 Autism Vaccine connection?--- Jaquelyn McCandless, M.D
Asking the Wrong Question By Lenny Schafer
FIRST MERCURY POISONING/VACCINE CASE FILED
CONGRESSMAN BURTON'S DAUGHTER RESPONDS TO WEBMD ARTICLE
TYPICAL COURSE OF AN AUTISTIC PATIENT--Dr Fudenberg
Shedding Light On 'Mind Blindness'
Electronic Resources on Autism from the NIH
[Home] [Vaccination]