Dr Richard Shulze, N.D., M.H.
Herbal medicine Natural Healers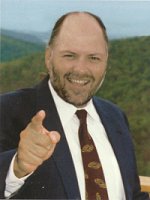 Dr. Schulze is one of the foremost authorities in the world on natural healing and herbal medicine. He holds a Doctorate in Herbology from the School of Natural Healing and a Doctorate in Natural Medicine. Dr. Schulze also holds a degree in Herbal Pharmacy and degrees in Iridology. He is certified in eight different styles of " body therapy" and has three black belts in the martial arts. Dr. Schulze has written numerous research papers on the topics of Botanical Pharmacognosy, Pharmacology and the making of herbal preparations.
[To see how the Allopaths suppress the competition: the Richard Shulze page on Wikipedia was deleted by an Allopath, Midgley, [ref]]
Website: https://www.herbdoc.com
Bob Mantz and Richard Shulze talking about curing AIDS
Publications

Dr Shulze's Natural Healing Crusade
The Difference Between Natural Healing and Medical Intervention by Dr Shulze, N.D.
AIDS - You Can Cure It-----Dr. Richard Schulze

Dr Shultz, School of Natural Healing, PO Box 3628, Santa Monica, California 90408-3628, USA. Tel: 001 310 576 6565. Fax: ---6575.
University of Natural Healing, 355 west Rio Rd, Charlottesville, VA 22901. 804 973 0262 (They put out the Dick Shulze material and a newsletter)
Common Sense Health & Healing, ISBN 0967156750
Healing Colon Disease Naturally

Healing Kidney & Gallbladder Disease Naturally
Healing Liver & Gallbladder Disease Naturally, ISBN 0967156777
Healing Colds & Flu Naturally, ISBN 0967156793
There are No Incurable Diseases, ISBN 0967156734
25 Ways to Have the Cleanest Liver, ISBN 096715670X
Breaking the Code: A layperson's Guide to Unlocking the Secret World of Medical Terminology', ISBN 0967156742
See: Dr John Christopher
Books with Shulze interviews:
Curing With Cayenne by Sam Biser---Dr. Richard SCHULZE, Medical Herbalist (taken off, see Sam Biser, or Amazon, ABE)
Cures from the Last Chance Clinic by Sam Biser.
External links


Patient HandBook
Video [See: Cancer videos]